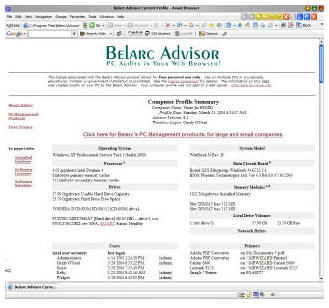 Most of PC users only know how to operate the PC but they don't know any specification of PC they're using. If you feel it's not too important to have a knowledge about PC specification, you may be wrong. In a certain conditions you have to know specification of the computer, though only basic. When the 'certain conditions' has came, you'll need a small software to easily recognize any device and hardware installed inside the case called Belarc Advisor.
This application will help you recognize all hardware and software installed on PC then display it on web browser. You'll se a simple and complete details of the PC, software licenses (serial number). I do recommend that you use this software while online or you have internet connection to maximize its ability.
Belarc Advisor also includes Microsoft hotfix and CIS (Center for Internet Security) benchmark that will compare security configurations on your computer.
Download Belarc Advisor
here